Inside the Fall Issue:
Tom Chapin's
'Family Tree' of Music
Keeps Growing
The Chapin Family
Hits The Road For
Two November Tributes
How the Memory of
One Little Girl Has
Made a Difference
Harry's Spirit Fuels
Run Against Hunger
Diligence and a Smile
Pay Off In a Big Way
People Are The
Key To Success
For Esperanza Unida
Fan Fare
Capture The Holiday
Spirit With Celebrity
Cards While Helping WHY
Community Effort
Overcomes Setbacks
To Make Multi-Purpose
Field A Reality
KIDS Program Founders
Motivate New Generation
of Hunger Fighters
Long Island Needs
'Long Island Cares'
Harry Was Right: Long Island Needs 'Long Island Cares'
by Mike Grayeb
At first glance, the new 35,000 square foot building in Hauppauge, New York that bears Harry Chapin's name is a bit overwhelming. The mammoth structure, and the number of people it serves -- more than 350,000 women, children, and men each year -- almost seem surreal.
But just inside the front door of Long Island Cares, The Harry Chapin Food Bank, a more human face of the battle against hunger on Long Island emerges.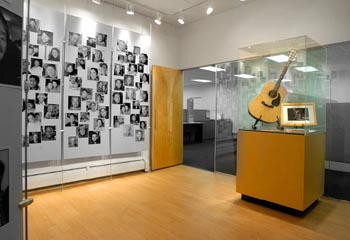 Dozens of photographs of individual people line the walls in the office, hallways, and the warehouse. Some feature the faces of the hungry children, single moms, and the elderly, who rely on Long Island Cares and its member agencies. Other pictures are of individuals who've made a difference in the local fight against hunger, like Harry and Sandy Chapin, Long Island Cares staff and board members, agency representatives, and volunteers.
Together, the photos create a mosaic of what Long Island Cares is all about -- a community of people helping people -- one person at a time.
Lynn Needelman, Long Island Cares' executive director since 1991, remembers the conversations she and Harry had about individual responsibility when they worked together at the Performing Arts Foundation, a non-profit arts organization in Huntington.
"Harry challenged me and he didn't let me off the hook; he didn't let me give any silly excuses," said Needelman. "I didn't see my ability at first and I certainly didn't feel as capable as he was. But he'd say you don't have to end world hunger, you can end one person's hunger, so get with it and do something."
Harry, of course, did something. While he served on the Presidential Commission on World Hunger in the late 1970's, a Congressman suggested he tackle hunger in his own back yard, on Long Island. Harry and Sandy, with the support of World Hunger Year and others, immediately began rallying community support. They teamed with business leaders, service organizations and individuals to establish the vision for Long Island Cares.
"We on Long Island, who believe in our region, who believe there is something truly unique here to preserve, to promote and to improve, feel that it is not good enough to wait for others," Harry said in a speech about the creation of Long Island Cares. "Very simply, Long Island cares about those who are suffering and we are going to do our best to do something about it. Long Island Cares will serve as a last resort for hungry people on Long Island and the first model of something that needs to happen all across America."
In November of 1981, just a few months after Harry died, a small number of dedicated individuals pulled together every available resource, and Long Island Cares opened the doors of its first official home. One of those dedicated individuals, Sandy Chapin, has been with the organization ever since. "Sandy is the Chairperson of the Board of Directors. She is always there," said Needelman. "She's there with the vision and the ideas and her support, and we couldn't do it without her."
Twenty years later, in 2001, Long Island Cares realized that it needed to move into a new, larger home, in part to meet the growing numbers of hungry people on Long Island. Sandy and Lynn, together with a small group of board members and supporters, set out to raise more than one million dollars to make it happen. The ensuing capital fundraising campaign included a benefit dinner and tribute concert in Harry's hometown, Huntington, NY.
For the pre-concert dinner, Sandy opened up her home to hundreds of Harry Chapin fans who traveled from across the country. Then, Harry's brothers Steve and Tom Chapin, his daughter Jen, and other family members, former band members and friends all donated their time and talents for the concert. The combined efforts raised more than $50,000 for the new building.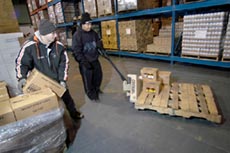 Last October, the organization opened the new food bank and named it in Harry's honor -- The Harry Chapin Food Bank. Long Island Cares now helps to feed more than 50,000 individuals every week through its 597 member agencies: Kids Cafes (after school programs), food pantries, soup kitchens, emergency shelters, daycare centers, and senior centers.
The organization also helps people to become self-reliant through its direct service programs.
One of those programs, "New Paths to Achievement," provides low-income single mothers with training on assertiveness, parenting, self-confidence, dealing with cultural differences and stereotypes, domestic violence, stress management, anger management, and vocational skills.
"They taught me how to prepare a resume, how to search for a job, how to interview, and how to maintain a job," said a recent graduate of the program, who asked not to be identified. "It helps me, and it also helps my kids, because they learn that you have to work to become self-sufficient." The single mother of four now helps local food pantries in her community. "It feels great, because when I really needed it, people helped me, so now I want to give back to help other people," she said.
In another program, Long Island Cares' community outreach team uses the food bank's warehouse and front office to offer on-the-job training to at-risk individuals in need of vocational or office skills as they seek employment.
Dimitris Lynum, a 20-year-old man from North Babylon, NY, has been learning warehouse skills at the food bank since last November. "I learned how to work with people and I'm getting good experience," said Lynum. "It helped me to get a good full time job this Fall and I'm also going back to school for fashion and design."
Lynum, now armed with marketable skills and a healthy self-esteem, said he'll soon be working at the local Target department store's warehouse on weeknights from 10 p.m. until 6 a.m. After he finishes his overnight shift at work, he'll be attending vocational school from 7 a.m. until 10:30 a.m. "I'll get some sleep after school," he said.
Education also plays a key role in Long Island Cares' mission. The "School Tools" program provides school supplies to food pantries that redistribute them to kids in need. It enables children from low income families to start off the school year just like the rest of the kids in the class -- with a new notebook and pencil.
The organization also brings its own classes on the road, to businesses and service organizations that want to learn more about hunger and what they can do about ending it.
The "Hunger 101" program features a role playing game, where audience members experience a day in the life of a hungry person. "Someone in the group plays a banker and denies the hungry person a loan because they don't have enough credit," said Needelman. "Then the person playing the role of the hungry person is challenged to search for their next meal at a soup kitchen, only to find out it's closed or they can't find transportation to get there."
Needelman said the class goes a long way in dispelling myths about hunger. Fifty-one percent of the families that are coming for help at Long Island Cares' member agencies have at least one member of the family working, she noted.
"So many people are living on the slippery slope. They can be working and their car breaks down, or they lose a job, or they have a sick family member. One big thing can happen and they find themselves in need," said Needelman. "So we shouldn't judge -- it can happen to each one of us."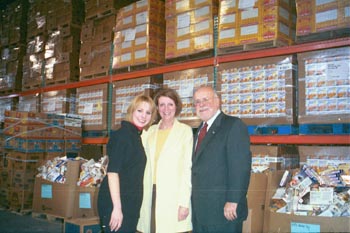 Lynn Needelman, executive director of Long Island Cares, greets Bob Forney, president and CEO of America's Second Harvest, and Olympic gold medal skating champion Sarah Hughes. Hughes lent her support to the 2003 National Association of Letter Carriers "Stamp Out Hunger" food drive.
How to Help Long Island Cares
"To know is to care.
To care is to act.
To act is to make a difference."

-- Harry Chapin
There are many ways to help Long Island Cares continue its mission. Below are a few upcoming opportunities; visit www.licares.org for other ideas or to make an instant, on-line donation.
"Share a Meal" On the Menu at Restaurants for October 16, 2003
Fifteen years ago, Sandy Chapin came up with the idea of getting local restaurants to donate a percentage of their receipts for one day to help fight hunger, and the annual "Share a Meal" event on Long Island was born. Participating restaurants are provided with promotional "table tents" to place on their dining room tables in the weeks leading up to the event, and each restaurant is listed in a promotional ad in Long Island Newsday. Last year, 70 restaurants from across Long Island supported the event.
Kathy Zadrozny, a restaurant owner and executive chef, has been a supporter of "Share a Meal" since its inception. "Restaurants from Hamptons all the way to Queens are committed to a common event. That's a very uncommon thing and I feel very good about that," she said. Zadrozny's newest restaurant, Mae Browne's (named after her grandmother), in Huntington Station, NY, is participating for the third consecutive year.
"It makes a lot of sense. Enjoy a great meal and share with someone in need at the same time," she said.
This year's "Share a Meal" is on Thursday, October 16, 2003. Ask your favorite restaurant on Long Island if they're participating, or pick up a copy of Long Island Newsday on October 16th and look for the ad containing a list of participating restaurants.
Harry Chapin Humanitarian Award Dinner Scheduled for November 20, 2003
Every year in November, Long Island Cares honors individuals who've made a difference in the fight against hunger on Long Island. The award is presented at a black-tie-optional dinner dance that also includes a popular "silent auction" featuring dozens of interesting items. This year's dinner is on Thursday, November 20, 2003. For ticket information, call (631) 582-3663, ext. 104.

Check Out Hunger Runs October - December, 2003
The 11th annual "Check Out Hunger" campaign is a partnership between supermarkets, shoppers, volunteers, and Long Island Cares. It runs in participating supermarkets across Long Island from October through December. Look for the scannable donation slips at the check-out register, and instantly donate $1, $3, or $5. 100% of the contribution goes directly to Long Island Cares.
Participating supermarket chains on Long Island this year include Fairway, Food Emporium, King Kullen, King's, Pathmark, ShopRite, Waldbaum's and Wild By Nature.
Tom Cullen, vice president of government and industry relations for King Kullen Grocery Company, which has 48 stores, explained why the Check Out Hunger program works so well. "We feature it on our grocery bags and put it in our circular every week during the program," he said. "Our customers have been very generous, and in 2002, King Kullen raised $34,549 for Long Island Cares through the Check Out Hunger program," he said.
Volunteers are needed on Long Island to help set up materials in the stores. Call (631) 582-3663, ext. 104.
Editors' Note: Local food banks in other parts of New York State and in Connecticut, Maryland and New Jersey also run Check Out Hunger and would appreciate donations and support.
Watch for the Next Issue of Circle! on December 7th