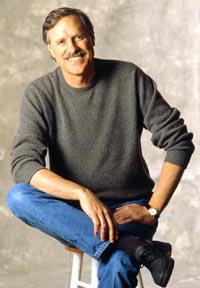 Tom Chapin's 'Family Tree' of Music Keeps Growing
by Bill Hornung
Two-time Grammy winner Tom Chapin seems to navigate through a complicated life that balances his "good news" children's music with an increasingly dangerous world. He's a folksinger who prefers to hunker down near home rather than play the role of traveling troubadour. In between, he juggles being a successful narrator, social activist, dad and husband.
Now with his 10th children's album ready to debut, Tom maintains unstoppable enthusiasm for creating witty music that also weaves important messages about the Golden Rule, playing fair and believing in oneself.
"My job is not to tell you the bad stuff... my job is to tell you of the possibilities," he said about his approach to family-oriented songs. But the music can't be overly politically correct. "The parents say 'boy, that's a good record,' but the kids say 'ugh'," when songs preach too much," said Tom.
Tom's 15-year odyssey into children's music began in 1988 as a lark to see if he could write songs that daughters Abigail and Lily, who were 8 and 6 at the time, would like as much as him. Family Tree ended up becoming a classic for teachers wanting some classroom entertainment and parents facing long car trips with the kids.
"I never expected this to be a career move," said Tom. "These songs are being moved around without a hit record, television show or movie. People just find them. It's humbling and delightful."
Ironically, many of Tom's industry accolades, including his two Grammy Awards, come for his non-musical work. He won back-to-back Grammy Awards in 2002 and 2003 for narration of the children's books Mama Don't Allow and There Was An Old Lady Who Swallowed A Fly. He has beat out the likes of Vanessa Redgrave and Tim Curry for his voice work that now spans nearly 30 books.
Some baby-boomers might remember Tom from the early 70s as the host of ABC-TV's Make A Wish that won Peabody and Emmy Awards. You can view a small clip from the show at http://www.tvparty.com/lostwish.html. Tom also narrated TBS' National Geographic's Explorer series for several years.
Tom said he still dreams of winning a Grammy for a music album because collaborators Michael Mark, Jon Cobert and John Forster haven't been duly recognized for helping create his successful career in family music.
Tom's work with Save The Children, World Hunger Year and other charitable groups also remain the important byproduct from his youth growing up in turbulent 50s and 60s in a family of good-natured social critics and artists.
"I was 12, Harry was 14 and Steve was 11 when we saw the Weavers at Carnegie Hall. We found a simpatico where music and social action lived. It's what drew us to Pete Seeger and Woody Guthrie. Music could be about something real and help make some things come true that we cared about."
He readily admits life is scary for kids these days, but the world's issues are far from paralyzing. "Most of us face our share of uncertain times as children, but kids are resilient and can endure a lot of stuff," he said pragmatically.
Besides, kids are his source of inspiration for the future because children naturally understand what's fair and what's not. "Parents have to really do some work to keep up with the clarity of kids," he said.
And while Tom can talk seriously at length about poverty, hunger, injustice and other weighty issues, Tom is first to laugh at himself. "As Robin Williams said, 'It's great being a folksinger; you can make hundreds of dollars a year and all the crow you can eat.'"

Making Good Noise Debuts Sept. 16
Tom Chapin's 10th album connects 14 songs into a chorus of fun about how to make and enjoy good music. The CD debuts Sept. 16, 2003.
Making Good Noise includes "Bang On The Pan," a ditty on the history of the steel drum, a true folk music instrument first made from discarded oil barrels in the 1940s on the Caribbean island of Trinidad."Yo-Yo's Ma" is a totally untrue story that plays off the famous cellist's name, but involves a plot with Bruno and other characters from past Tom Chapin songs.
And like past albums, Making Good Noise includes lots of humorous word games, lullabies and the occasional antagonists in a typical child's life.
Ordering information is available at www.tomchapin.com.
Watch for the Next Issue of Circle! on December 7th