Inside the Fall Issue:
Tom Chapin's
'Family Tree' of Music
Keeps Growing
The Chapin Family
Hits The Road For
Two November Tributes
How the Memory of
One Little Girl Has
Made a Difference
Harry's Spirit Fuels
Run Against Hunger
Diligence and a Smile
Pay Off In a Big Way
People Are The
Key To Success
For Esperanza Unida
Fan Fare
Capture The Holiday
Spirit With Celebrity
Cards While Helping WHY
Community Effort
Overcomes Setbacks
To Make Multi-Purpose
Field A Reality
KIDS Program Founders
Motivate New Generation
of Hunger Fighters
Long Island Needs
'Long Island Cares'
Community Effort Overcomes Setbacks To Make Multi-Purpose Field A Reality
by Linda McCarty
When Middlebury, Vermont, Selectman John Tenney told Jono Chapin that it would take patience to realize the goal of building a community field to honor his friend Vin Fucile, he could not have imagined the setbacks and twists of fate that would mark the project's progress. "It's a process," Tenney told him, and those words resonated with Jono over the next six years as he worked with the town, the school district, businesses, and many generous individuals to bring the project to completion.
Following the death of Forth & Goal sporting goods store co-owner and avid sports promoter Vin Fucile of a brain aneurysm at the age of 45, a group of friends gathered to find a way to honor his memory. Jono, Sandy Chapin's oldest son, has coached lacrosse teams for 12 years and was coaching girls soccer at the time. He noted that the eight middle school and high school teams were practicing and playing on the school's three fields, and this meant that five teams were left with nowhere to go.
The Fucile Community Field project seemed an ideal way not only to remember a friend but also to give back to the community. "Harry always said that one of the most terrible things is destruction... destruction of people's sense of themselves, self-esteem, property," he said. "But to be able to create and bring something new into the world is wonderful. We all have the capacity to create something and it takes different forms. I'm fortunate to have had mom and Harry to foster that way of appreciating life and possibilities."
The first setback was a stalemate between the town and the American Legion which owned property needed for the project, which was contingent on having parking. After a year and a half of negotiations, the Zoning Board Administrator determined that they could get around the issue by adding in a strip for parking. Now the building process could begin in earnest. Recalling John Tenney's observations about the many phases in such an endeavor, Jono thought, "I'm on the right track, and this may be the first of many setbacks. I can stay the course and prevail."
Because the property sloped downward, a "cut-and-fill" process was required to level it out, Jono explained.
Five test pits were dug to reveal any rock below the surface, but just two weeks into the process, the project's largest obstacle emerged in the form of a massive rock ledge equivalent to the size of 6-8 buses that testing had missed.
Blasting through the rock was considered the best method of resolving the problem, but that would cost an estimated $160,000. "This basically doubled the projected cost and stopped the project dead in its tracks, but I believed in the community and that people would understand," Jono said. The project continued.
At the same time another essential component, fundraising, continued on an equally challenging if less bumpy track. "The Municipal Sports Center, which had built a local hockey rink, assisted in providing umbrella support for 501(C) 3 nonprofit status," he said. "We asked the Lions Club to get involved, and they decided to pledge $25,000. It was huge to have the support of a major service organization to be behind the project and give it credibility."
Another income source came via a coach who worked for Verizon. They took advantage of the company's matching program that allowed up to ten employees to raise up to $2,500 each to be fully matched. "The next year we did a bike relay. It was fun and people felt good about it," Jono said.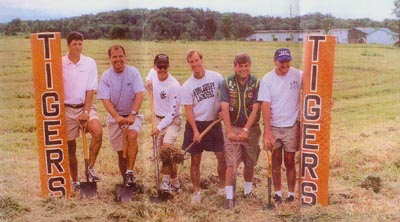 Participating in the groundbreaking ceremony for what would become the Fucile Community Field are (from left to right): Brian Fucile, Erin Quinn, Don McIntosh, Jono Chapin, Ron Counter and Rocky Fucile
A college lacrosse coach suggested challenging the students to participate in a 5K run to raise additional funds as he had done as a team conditioner with proceeds going to a battered women's shelter. Jono rallied his athletes do pledge $100 each. Successful races in the Spring and Fall yielded another $10,000 toward their goal.
On May 17, 2003, when the day of the field's dedication ceremony finally arrived, Jono recalls that his mother suggested he set a goal for how much he might raise that day. "We decided to put an individual's name on a seat in the stands for $100 and a business's name for $300. We raised several thousand dollars that day," he said.
The effort to pay off the balance of the expenses and to install seats, lights, and a scoreboard continues but the effort is worthwhile. Jono believes that as teams come to the field from other areas they will see this as a model for how it's done. "Take your interests and strengths and get involved where you are," he said. "It's what you give that's your reward, not what you get. I've met so many people along the way, and this field will benefit the community for decades to come."
Watch for the Next Issue of Circle! on December 7th