Harry's 'Never Give Up' Spirit Fuels Run Against Hunger
by Mike Grayeb
It's close to Autumn in Croton-on-Hudson, a quiet little village nestled just 33 miles north of the busiest city in the world. The leaves are falling and it's a bit chilly. Thoughts and sounds of Harry Chapin are in the air again.
More than 300 youngsters from the Carrie E. Tompkins Elementary School soon will be lacing up their sneakers for the one-mile "fun run" to help fight hunger. Then, hundreds of teenagers, adults, and senior citizens will persevere for 6.2 miles through the tortuous incline of Batten Road, the winding curves of Quaker Bridge Road, and the fleeting views of the breathtaking Croton River.
The 23rd annual "Harry Chapin Memorial Run Against Hunger," scheduled for Sunday, October 19, 2003, is fast approaching. It's not an easy 10K race by any means, but they're going to give it all they've got, just like Harry always did.
"It's funny but every time we get close to the race, it seems like all the radio stations are playing Harry's songs again," said Walt Gillis, a member of the event's organizing committee. Walt and his wife Shirley have been involved with the annual run since its beginning. "I wonder if they do it because they know it's time for the Croton race," he said.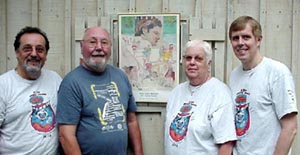 Committee members Joey Valentinetti, Walt Gillis, Shirley Gillis, and Jud Ramaker prepare for 23rd annual race.
Photo courtesy of Joey Valentinetti
As Harry's songs fill the airwaves, casual and serious runners from around town and across the country will once again gather together for fun and for a good cause. Some will travel from Connecticut, Pennsylvania, New Jersey, Virginia, Illinois, Indiana, and even Utah, said Gillis. "There's a group that calls themselves 'Runs in the Family,' and they have a family reunion and come from all over the country to participate. They had 38 people in the fun run alone last year."
And to think this annual tradition might never have happened if the organizers had given up that first year.
In early 1981, just months before Harry died, Walt and Shirley, along with a small group of members of the Asbury United Methodist Church in Croton-On-Hudson, were brainstorming about ways to make a difference.
"One of the gals suggested we do something to fight hunger," Walt said. "The idea came from Harry and his music, and some of the people in the group were runners and so they said we ought to do a run against hunger." But when the group tried to find a major sponsor to underwrite expenses for the event, they came up empty handed.
"Then, later that Summer, when Harry died, a local resident who to this day remains anonymous offered to sponsor the race and donate $3,000 worth of tee-shirts if we'd name the race in Harry's honor," he said.
That first year the event raised more than $9,000. And the race raised a lot more than money, too, as Harry's example inspired further action.
"We felt there was a need to take care of people in our own area," said Shirley Gillis, a retired schoolteacher. "There are many families that are working but can't quite make it with rent and everything, so we used some of the money from that first race to start a local food bank, the Cortlandt Emergency Food Bank."
Within a year the food bank was up and running, and Shirley has been involved ever since. "I wanted to do something, so now I volunteer with both the race and the food bank," she said. "I love it. It's so rewarding."
Since that first run, organizers have raised between $12,000--$15,000 per year through corporate sponsorships, participation fees, and individual donations. GE Capital is an annual supporter. However, the biggest sponsor for the event is Sam Colombo, a local resident who raises thousands of dollars every year (see accompanying story). The proceeds from the race go directly to anti-hunger efforts through The United Methodist Committee On Relief (UMCOR), which absorbs all of its own organizational costs.
In addition to supporting the Cortlandt Food Bank, the proceeds also have supported other local organizations, including the Croton Caring Committee, which provides support to elderly citizens in need of food, and World Hunger Year (WHY). WHY was co-founded by Harry and is located just down the Hudson River a bit in New York City. Other beneficiaries have included international hunger relief efforts in Ecuador, Lesotho, and Ghana, as well as Central America, Asia and the Caribbean.
Organizers and runners alike say they have a blast while they're raising money for the cause. One item race-goers look forward to every year is the limited edition, specially-designed race T-shirt, the artwork for which is designed and donated by renowned artist Craig Yoe, of Yoe Studios, who is formerly the vice president and general manager of the Jim Henson Muppet Show. "The designs are really fun, and the shirts are very popular. People collect them and we also offer them for donations," said Shirley.
Every child who participates in the fun run also receives a commemorative medal featuring the artwork from the T-shirt.
"The local community really supports the race," said Walt. "The teachers and principal get behind it by letting us set up registration tables in the school the week before the race, and by encouraging the kids to participate." The school class that has the largest percent participation gets a pizza party for the kids, paid for out of the race committee's own pocket.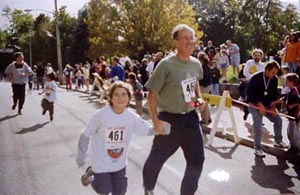 Caroline Bannan and her father Mike, both of Croton-on-Hudson, NY, cross the finish line in the 2002 "Fun Run."
Photo courtesy of Joey Valentinetti
As the race date approaches, Course Director Jud Ramaker, a Croton-on-Hudson resident and a therapist at New York City's Memorial Sloan-Kettering Cancer Center, reviews his checklist. Course condition. Check. Water stations. Check. Race clocks. Check. Signage. Check. Ramaker doesn't fool around. He's a seasoned marathon runner who's been in all the big races including the New York City Marathon, and he wants to make sure this race is fun for everyone.
Meanwhile, computer maven Joey Valentinetti, who runs the event's website and has already pre-registered hundreds of participants for both races, is put to the test himself. He registers hundreds of last minute "walk ups" who sign up the morning of the race. More than 75 volunteers in all help make the race day a success. "It takes a village to raise a race," said Shirley.
Then, when the last runner has crossed the finish line, and the results have been tabulated, Walt and Shirley and the others will share a dinner to celebrate their latest success. And all the while, they'll be remembering Harry and his perseverance. "A lot of us on the committee joke that the turtle can win the race," said Walt. "We just keep plugging away."
For additional details on the 23rd Annual Harry Chapin Run Against Hunger, including pre-registration, how to order commemorative T-Shirts, directions to the run, or to make a donation, visit www.runagainsthunger.com
Watch for the Next Issue of Circle! on December 7th