Diligence and a Smile Pay Off In a Big Way
by Mike Grayeb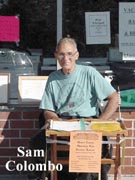 Can one person make a difference?
Ask Karen Colombo about her 59-year old husband Sam. Fifteen years ago, Sam was in a major car accident that left him with a traumatic brain injury that to this day prevents him from speaking complete sentences. He was in intensive care for 3 weeks, rehabilitation for another 3 weeks and therapy for 18 months. His mobility was also severely impaired.
Yet for the last 6 years, Sam has raised more money for the Harry Chapin Memorial Run Against Hunger than anyone else, including the race's corporate sponsors. Last year, Sam collected more than $8,300 - more than half the proceeds raised from the event. And every year, he participates in the one mile fun run against hunger, cheered on by neighbors, friends and others from around town who know him only as "Sammy."
In his first couple of years with the race, Sam didn't raise funds. "He did the fun run one year and then the next year we had a friend named Frank Sansevera who was very sick with cancer," said Karen. "So that second year, he did it for Frank, who passed away about a month before the race." The following year, Sam learned about the fundraising component of the race. Immediately, he decided to do his part to fight hunger.
Each June, Karen creates a promotional flier that communicates Sam's plan to "run against hunger" and his request for donations for the cause. The flier also lists members of the community who have recently passed away, as these are the folks Sam will be honoring in his run.
Sam distributes copies to about 8 to 10 restaurants, delis, beauty parlors and other businesses in Croton-on-Hudson. Then, in July and August, he canvasses the entire town. Walking nearly every block from Harmon Station to Zoller's Marine, he knocks on doors and shares his flier to generate donations.
In September and the first half of October, every Monday through Saturday, Sam heads to the village's business district and sets up a small table, where he spends about 4 or 5 hours a day, greeting shoppers with his warm smile and gathering more donations.
Often on Sundays, he'll sit in front of one of the popular delis in town, ready to connect with people after nearby religious services. "He usually sits at Tricia's Kitchen because it's between the Catholic Church and the Asbury Church, and he always carries his clipboard and sheet with him in case he runs into somebody who wants to help," Karen said.
Some of the youngsters in town share the pennies from their piggy banks with Sam. Most people donate $5 or $10. One couple gives Sam a check for $1,000 every year. 700 to 800 people and businesses respond to his call for support.
Karen, who is a teacher's aide and works from 7:45 a.m. until 6 p.m., also doubles as Sam's fundraising accountant each night. "I come home and he's got money laying on the table for me to count," she said. "So I count it and then I make dinner. Then, I sit down and fall asleep." Karen doesn't mind helping out for a good cause, though. She's also a volunteer member of the board of directors on the town's Caring Committee.
Every year, Sam tries to raise more money than he did the year before. And every year, he succeeds. "It makes him feel good because he's helping people," said Karen. "It lets him know that he can do things and make a difference."
Others have also recognized the difference Sam has made. Trophies and special award certificates from the race committee, the Lion's Club, local church groups and other service organizations, are on display in his living room at home.
"It's great what he's doing and it shows people, especially the kids, that no matter what, you can do whatever you want, as long as you put your mind to it," said Karen. "If he can do it, you can do it."
Watch for the Next Issue of Circle! on December 7th