Inside the Fall Issue:
Tom Chapin's
'Family Tree' of Music
Keeps Growing
The Chapin Family
Hits The Road For
Two November Tributes
How the Memory of
One Little Girl Has
Made a Difference
Harry's Spirit Fuels
Run Against Hunger
Diligence and a Smile
Pay Off In a Big Way
People Are The
Key To Success
For Esperanza Unida
Fan Fare
Capture The Holiday
Spirit With Celebrity
Cards While Helping WHY
Community Effort
Overcomes Setbacks
To Make Multi-Purpose
Field A Reality
KIDS Program Founders
Motivate New Generation
of Hunger Fighters
Long Island Needs
'Long Island Cares'
Fan Fare
David Miller
by Linda McCarty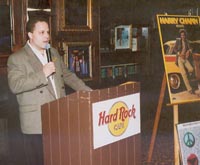 Anyone who knows David Miller's background, knows why he'd proclaim, "I was born to have this job" as general manager of the Hard Rock Café in New York City. It is a position that allows him to combine his career in the restaurant business with his longtime dedication to Harry's music and causes.
Miller first heard and was captivated by Harry's "Cat's In The Cradle" and "Taxi" as a young boy growing up near the Chapin family in Huntington, Long Island. "I'd see Harry with the kids at the pizza parlor eating dinner. Later, when I was in school with his son Jason, I'd see him at sporting events," he recalled. "His music was inspiring. He told stories about real people, and it captured my imagination early on. Harry proved that one person can make a difference and that it's important to give back to your community."
"Harry was just a larger than life individual. You could be in a very crowded room with lots of conversation, and you knew he was there," he said. "He was big physically and he could capture an audience at the drop of a dime. Tom once said that once you met Harry you never forgot him and were linked to him in some way."
The link took hold when Miller was a senior in high school and worked on a documentary about Harry's life for a film and short story class. After an article about his "Harry Chapin Š The Story of a Life" appeared in The New York Times, he got a call from Sandy Chapin. "Sandy wanted to get the film produced onto videotape," he said. "This was accomplished with the approval of Grumman Aerospace. In 1984 my video won Outstanding Student Video Documentary on Long Island from the Suffolk County Film Commission."
This contact with Sandy led to Miller working in the Chapin office. He helped out answering fan mail and fulfilling orders for T-shirts, programs, and Harry's "Looking...Seeing" poetry book.
When the film was shown, Miller met someone who had an idea to help Long Island Cares (LIC), the food bank Harry founded. They got together and came up with the concept for the Harry Chapin 5K Run, which became a successful annual event. "I got sponsors, permits, helped lay out the course and got involved with LIC as a result," he said.
Miller continued to be involved with fundraising efforts for LIC, helping to organize the first annual Harry Chapin Humanitarian Award and benefit dinner. He was then asked to join the organization's board of directors and served in that capacity for several years. His career took Miller to Boston for a few years, but he rejoined the board and headed its fundraising efforts upon his return. He worked on an auction of professionally decorated holiday trees and helped out with food drives Kenny Rogers would do when he performed in the area.
Less successful were Miller's efforts to get a postage stamp in Harry's honor. "In '84-'85 I drafted a letter to the postal commission and got rejected," he noted. "Around the time the Congressional Gold Medal was awarded, I tried again and got rejected again." Undaunted, he joined in another effort three years ago that was later abandoned as the process became highly politicized.
Miller's connection to World Hunger Year (WHY) also began in the '80s when he assisted at Hungerthon, an annual fundraiser on the radio in New York City. Miller now encourages his staff at the Hard Rock Café to participate.
"During the time I was working in New Jersey, it was hard to be as involved as I wanted to be. Coming back to New York and working for the Hard Rock Café was a natural fit," Miller said. "They have an Ambassador program through which employees donate time and services to give back to the community. Several weeks after my return to New York, I was back on the phone to Bill Ayres," WHY's executive director. The Hard Rock Café had a pin party featuring a special pin designed by one of the waiters with all proceeds going to WHY.
Most recently, Miller was instrumental in the dedication of the Hard Rock Café's Liberty Room to New York artists, with a sampling of Harry memorabilia prominently displayed. "It was great that I was able to influence making that happen," he said. "It was a good representation of Harry and WHY and the reason we're so involved." Items on display include one of Harry's concert shirts, original lyrics for "W*O*L*D, and a 1974 Checker Cab door signed by Tom and Jen Chapin and other New York artists who come to visit.
For Miller, the reward of volunteering is the people he's met along the way. "I continue to go to fundraisers and award dinners with the best people you'll ever meet in your life who share the same ideas you do," he said. "Giving back makes you feel that you have helped others that are less fortunate, that you are not here just for the taking but giving back as well.
Miller has one more important contribution to the Chapin legacy. "My son, born March 28, 2000, is named Chapin Miller," he said.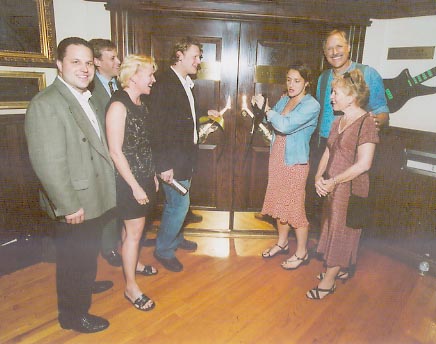 Jen Chapin (third from right) cuts the ribbon at the ceremony dedicating to New York artists the Hard Rock Cafˇ's Liberty Room. With Jen are (from left to right): David Miller along with Jaime, Jason, Josh, Tom, and Sandy Chapin.
Watch for the Next Issue of Circle! on December 7th