Fan Fare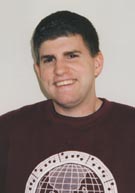 Scott Sivakoff
by Steve Gibbons
Some Chapin fans know Scott Sivakoff as a fountain of Chapin trivia and news as well as a passionate performer of Chapin music live and online, but few know of his efforts to help fight hunger in his area.
Sivakoff first got turned on to Chapin music as a teenager in the early 1990's. "I found my interest in music when I was about 14 after hearing 'Cat's In The Cradle,'" he said. "A friend taught me a few basic chords on the guitar, and I took some lessons so that I could learn more of Harry's songs."
As the years went by, Sivakoff took more lessons and rarely passed up a chance to perform for his friends and family. Eventually, Scott joined a local rock-and-roll band and performed just about anything but Chapin music. But the circle hadn't come around yet.
Through his college years and beyond, "The ingenious lyrics, combined with some of the most powerful music I've heard, have me learning, feeling, and becoming part of what Harry was trying to say," Sivakoff said. "The hard part for me was turning that feeling into some kind of action."
Then, he got more involved in the Chapin fan community, meeting more people and making friends and learning more about Chapin music. That led to Sivakoff attending the Chapin Family Weekend at Oven's Park in Nova Scotia four years ago.
"It just so happened that Bill and Kay Pere of Local United Network to Combat Hunger (LUNCH) also were there that weekend," he said. "We got to talking and found out we all lived in Connecticut and enjoyed playing this kind of music." Pere explained to Sivakoff what LUNCH was all about. It was the perfect fit for Sivakoff, who had been looking for a way to express his growing concern for Harry's issues. He soon began playing bass for Pere and played his first LUNCH benefit the following Spring.
"Organizations like World Hunger Year are wonderful, and through the years I've done a benefit or two for them and worked a few Hungerthons," he said. "The LUNCH programs allow me to work on the problem on a local level."
There are several LUNCH events each year, from small benefits for soup kitchens to larger things for relief groups at churches. These events bring in lots of money for the selected charity. "For me it's exhilarating knowing that every single note I'm playing is helping to fight hunger," Sivakoff said. He describes performing as, "Loads of fun! The LUNCH gigs are an opportunity to perform in front of an audience that is interacting with us. I consider everyone in LUNCH a friend, and I really enjoy being on stage with them."
Sivakoff's hope is that he is not only helping out local charities but also inspiring the next generation of Chapin fans to get more involved and "do something," as Harry Chapin said. He suggests that people who are interested in supporting LUNCH start by attending one of their benefits, or by visiting the LUNCH website at www.lunchensemble.com. "If you have the desire to get involved, there is always something you can do," he said.
Sivakoff is also helping to promote Chapin music online. Every Sunday night starting at 9:00 PM (E.T.), Chapin fans meet in a Yahoo! Messenger Chat and he takes Chapin requests and performs live. See www.harryitsucks.com/online.html for details on how to join the free event.
Watch for the Next Issue of Circle! on December 7th