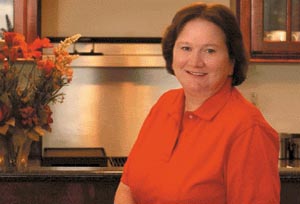 Fan Fare
Nancy McCoy
by Bill Hornung
The impact one individual can have on another has always fascinated lawyer and part-time author Nancy McCoy. In fact, a brief meeting with Sandy Chapin several years ago prompted McCoy to write her first book, Butterflies Do Not Sleep in Hot Tubs.

"I'm not a celebrity chaser as a general rule," McCoy said jokingly during a recent interview. As a long-time Harry Chapin fan, McCoy finally built up the courage to arrange a hastily scheduled meeting with Sandy during a last-minute trip to Long Island in 1999.

The encounter validated McCoy's internal need to do something. She soon finished her book that features two prominent chapters about her Chapin fascination, including a humorous recount of the meeting with Sandy.

"I didn't think anybody would care or want to publish it," she said of the book that has received rave reviews by even the highly critical Texas Lawyer newspaper. The book is a compilation of true stories from McCoy's friends and family, which include personal experiences that illustrate the positive influence individuals can have on others through even the smallest of actions. The stories are touching and often laced with McCoy's signature off-center humor.

"I was very touched by Harry's music and the message--the message that we each have a responsibility that we can't ignore," McCoy added.

She's taken that advice to heart and is now president of the Montgomery County (Texas) Food Bank. "Eliminating hunger is the first priority…you can't improve your condition in life if your belly hurts."

The food bank serves 11,000 people each month in the county just north of Houston.

McCoy also donates autographed copies of Butterflies Do Not Sleep in Hot Tubs to the Chapin Foundation, so 100 percent of the purchase price of books obtained from the Foundation goes directly to it. Copies can be ordered through the Chapin family's website www.harrychapinmusic.com. A portion of the proceeds from sales elsewhere also is donated to the Foundation.

Being involved in the hunger fight has fundamentally changed McCoy's approach even to her primary profession as an attorney. "You see so much real injustice. People who are poor have no or very limited access to good quality medical care…and zero access to the courts if they can't write a big check upfront to a lawyer."

McCoy still practices civil law in between a growing speaking schedule to promote her books and the food bank. And her second book, Heart Twisters, has just been released. The novel is set in a small Texas town that is confronted with religious intolerance when a high school football player who is Jewish objects to involuntary prayer sessions during practice.

"I tell everybody it's about religion, politics and sex," McCoy says about the new book.

McCoy said she displays common characteristics of the average Chapin fan. She owns all the CDs and videos she can find. She brought an artist into her home a couple of years ago to help create a Harry Chapin shrine. It includes: a framed charcoal drawing of Chapin, an autographed picture and a portion of the lyrics to "I Wonder What Would Happen To This World," all framed by a meticulously painted checkerboard pattern similar to the cover of the Heads and Tales album.

"My husband is tolerant of it…but he thinks I'm a little bit over the top." And McCoy's fascination influenced her daughter to write a high school paper on "Mr. Tanner" a number of years ago.

McCoy said her passion for Harry's music and social action is the essence behind Butterflies.

"What I wanted to do is inspire some introspection. Everybody has great stories…and I think there's great value in contemplating the influences in one's life," McCoy said.

McCoy admits the book has a Chapin-like feel. "I stole one of Harry's themes of telling about the extraordinary moments in ordinary lives."

And while Harry was one inspiration, McCoy thanks Sandy for kick-starting her writing career. "I always wanted to write a book, but meeting Sandy was the catalyst to get me to do it."

To learn more about Nancy McCoy, visit her website at www.nancymccoyauthor.com.
Watch for the Next Issue of Circle! on March 7