Inside the
Winter Issue:
Happy Birthday Harry
and Season's Greetings
From The Circle Team
Harry Chapin
Foundation Maintains
"Just Do Something"
Philosophy
Remembering Harry:
A Collection of Rare Photos
Fan Fare
Hitting All
The Right Notes:
An Interview With
Big John Wallace
Run-DMC Star
Strikes a New Chord
With "Cat's in the Cradle"

Behind the Song:
Cat's in the Cradle
Finally... A
West Coast
Jen Chapin Tour!
Consider These Ideas For
Giving Gifts With Meaning
This Holiday Season
DC's Community Harvest
Strives To Provide
"Good Food For All"
Singer- Songwriter
Lea Creates Positive
Energy In Music
and Action
---
DC's Community Harvest Strives
To Provide "Good Food For All"
by Linda McCarty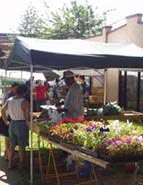 On the side of Washington, DC that sits near the convergence of the Potomac and Anacostia Rivers and within view of some of our nation's most famous monuments is a neighborhood of 70,000 people who have been without a single chain supermarket for several years.

Community Harvest, an organization founded in 1987 to "...provide good food for all," started its Urban Oasis Farm & Learning Center five years ago to help provide produce to a community dependent on taking public transportation to get healthy, fresh food.

Today, some 1,000 volunteers from schools, local organizations and corporations plant, tend and harvest fruit, vegetables, herbs and flowers grown using organic methods at the one-acre mini-farm. The items are then sold at the nearby Heritage Park Farm Stand at prices affordable for those in one of the area's poorer neighborhoods.

Community Harvest also meets its mission through The Local Food Alliance, a program designed to help area farmers market their produce to low-income communities through seven farmer's markets and farm stands it runs across the city from mid-May until the beginning of November.

Another program of the Alliance is the Healthy Cooking Project. Once a month at each farm stand and market, volunteers conduct demonstrations of food preparation and hand out nutrition information and recipes to familiarize residents with the uses of various produce items. Some in the immigrant population may have access to locally-grown produce but no idea how to use it. Participation of families and children in these events is encouraged.

The needs of children also are targeted through the Youth Development Program. Opportunities are provided for employment and leadership training in combating hunger and food insecurity.

Private and corporate foundations, the DC and Federal governments, community organizations and in-kind contributions and services from area merchants all support the work of Community Harvest.

To learn more about Community Harvest, go to communityharvestdc.org. If you're interested in getting involved in a similar program in your own area, visit World Hunger Year's (WHY) National Hunger Clearinghouse Database. Community Harvest is a 2002 recipient of WHY's Harry Chapin Self-Reliance Award.
Singer-Songwriter Lea Creates Positive Energy In Music and Action
by Linda McCarty
At a recent concert appearance at The George Washington University in Washington, DC, 25-year old singer-songwriter Lea joked that she's too old to be a rock star. While the maturity of her lyrics belies her age, "People say that I'm older than I am or that I have an old spirit," Lea later explained.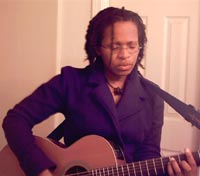 Photo by Joi Morris
Her music has been compared to Joni Mitchell and is a soulful blending of R&B, jazz and urban folk. "If I could get away with not describing it, that's what I would do. Most folks say it's a folk-jazz fusion," Lea said. "My musical influences come from classic rock artists like Neil Young and Eric Clapton. I'm most like Neil Young in terms of his simplicity and the things he was writing about."

You might say that Lea was born into music. Her mother was a member of the Jones Family Gospel Singers and her father a professional trumpet player. Lea credits them for her polished performances as well as starting her with music lessons at a young age. By the time she was 13, Lea had not only begun playing guitar and writing songs but also knew it would become her career. "When I was playing and writing, there was a fulfillment there that I knew I wouldn't get anywhere else."

In between touring and taking care of her three-year-old daughter, Lea has found time to lend her talent to benefit nonprofit organizations like Community Harvest and Habitat For Humanity. "It's not part of my mission statement, but when I open myself to using my greatest gift to give, not just to make money or ease my own mind, the opportunity presents itself. When I'm playing in someone's living room, it has a healing effect and brings love and peace, and then I'll meet someone there who wants me to do something. I wouldn't say I'm an activist, but I'm conscientious about creating positive energy."

Today, Lea is on the road in the U. S. and Europe promoting her second CD, "Looking Forward." Regarding her commentary between songs, she said, "I have to be honest and open, and I find myself saying things to the audience that I wouldn't say to friends. I find it very therapeutic."

If you'd like to hear sound clips of Lea's music or to check her upcoming tour schedule, go to ThisIsLea.com.
Watch for the Next Issue of Circle! on March 7