Behind the Song:
Cat's in the Cradle

by Mike Grayeb
It's been 29 years since Harry first sang the song that his brother Tom said, "…put more fathers ill at ease than any other song in history."

"Cat's in the Cradle" reached the top of the Billboard music charts in December of 1974. It sold millions of copies and earned Harry a Grammy nomination for Best Song.

Children bought the record for their parents, and wives played it for their husbands. Ministers used the story in their sermons; and business leaders, school teachers and newspaper columnists cited the song's lyrics on Father's Day. Even pop culture television icons like "The Simpsons" and "Saturday Night Live" have featured "Cat's in the Cradle" in their storylines.

In recent years, the song was covered by Judy Collins, the late Johnny Cash, the rock group Ugly Kid Joe, and country singer Ricky Skaggs. This year, Darryl McDaniels, a founding member of the legendary rap group Run-DMC, joined singer-songwriter Sarah McLachlan and recorded the song to tell his personal story of adoption (see accompanying story).

So how did "Cat's in the Cradle" come to be?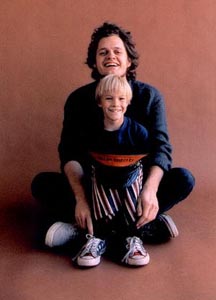 Harry and his son Jono
Copyright ©2003 The Chapin Family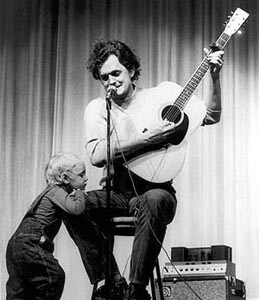 Harry and his 'dancing boy' Josh
Copyright ©2003 The Chapin Family
Harry often described a poem his wife Sandy had written about him not being around enough for his newborn son Josh. But that was only part of the story behind the song.

Sandy recalled two sources of inspiration for the poem: the relationship between her first husband and his father, and a country music song she'd heard on the radio.

Sandy's first husband, James Cashmore, was the only child of John Cashmore, who was the longtime President of the Borough of Brooklyn, New York.

"[John] was a wonderful and interesting man; he was one of 11 children, and he never went past the fifth grade in school," Sandy said. "He started an office furniture company and built a successful business. Then he went into politics and was Borough President of Brooklyn for 25 years."

John wanted his son to be a judge, which he considered to be the most honorable profession, she said. "He was trying to engineer the kind of career for his son that he couldn't have himself because of his lack of education."

When James went away to college, his father gave him a membership to the country club, a baby blue car and plenty of credit cards, she said. "His father had spoken to a Senator to get him into law school. His father arranged for him to be sworn into the service the day he was supposed to take the bar exams. In those days, if you were called into service the day of the bar exam, you didn't have to take the bar exam–-you automatically passed."

"These things made James feel like his life was a fix," she said. "He wasn't the energetic, charismatic person that his father was. By the time I met him, even though he was an intelligent person and was accomplished at so many things, he had no sense of himself."

Early in their marriage Sandy and James lived temporarily with his parents while they were apartment hunting in New York City. It was during this period that the awkward relationship between father and son became even more apparent to Sandy.

"During dinner, my father-in-law would speak to his son through me. 'Tell Jimmy I'd like him to show up at the club on Tuesday, he'd say.' I just thought it was the most incredible thing I'd ever seen. It's not that they weren't speaking. They were polite to each other, but they didn't really communicate with each other."

Years later, after she and James were divorced, Sandy reflected on what she'd seen. "It struck me in hindsight, and I realized that you have to be in communication with your children from the time they're two years old."

Then, after Sandy married Harry, she was writing poems and helping Harry to write songs for the television show "Make a Wish" when a country music song on the radio caught her attention.

"It was about a man and a woman sitting at their kitchen table and looking out to the backyard. They had a swing set and a sandbox and bicycle in the corner," she said. "They were talking about how it all went by so fast and how they could have spent more time, and now the kids are gone. That song put me in the mood for writing a lyric."

Inspired, Sandy scratched out three verses about a child getting older, the story of which Harry eventually used as the basis for "Cat's in the Cradle." "He came home and I showed him the poem, and he sort of brushed it aside," she said.

About a year later, after Josh was born, Harry picked up the poem again. "He said, 'Hey, this is great; I'm going to put some music to it,'" she recalled. "I'm assuming he was looking at things differently after Josh was born, but he didn't really talk about it to me."

To create the chorus, Harry reworked lines from various nursery rhymes and drew especially from the rhyme The Cat and the Fiddle:
Hey diddle diddle, the cat and the fiddle
The cow jumped over the moon.
The little dog laughed to see such sport
And the dish ran away with the spoon.
"Harry wrote exactly the right upbeat melody over a sad lyric, and it was very catchy and repeatable so people could sing it," she said. "The other thing is there is probably a twitch in people's brain from their childhood, a familiarity. It was a happy combination of circumstances."

When Harry's album "Verities and Balderdash" was about to be released, David Geffen, the interim president of Geffen Records, selected "Cat's in the Cradle" as the album's lead single.

"Harry came home and told me that, and I said you can't do that; it's ridiculous. That song will only appeal to 45-year-old men, and they don't buy records," said Sandy. The song went to number one, and it was Harry's only number one record. "It just goes to show how wrong you can be," she added.

"I think the reason people responded and continue to respond is because it is a real life story, and everybody has a piece of that experience," said Sandy. "We still get letters about that song today. Parents responded by deciding they were going to do better and be home for their kids more."

"The whole point of the story is that we learn our lessons in life by making mistakes, by trial and error, by experience," she said, adding, "It would be great if we could learn about the future ahead of time, but we have to learn the hard way. It's like the old saying--too old too soon, too wise too late."
Watch for the Next Issue of Circle! on March 7