Fan Fare
Linda Mitchell
by Mike Grayeb
Linda Mitchell is not a typical retiree. But she hopes she's part of a growing trend of people who are finding new ways to use their years of experience and talents to make a difference.

Since the time she retired from her career as a community college teacher a dozen years ago at the age of 40, Mitchell has dedicated herself to raising money for those in need. Already she's raised more than $1.5 million.

Mitchell, of Clarksville, IN, cites two life-changing experiences to explain why she has refocused her life to giving back to others: a brief meeting with Harry Chapin after a concert, and her own success of beating cancer twice in the period of about 12 years.

In 1979 Mitchell, who was married and had two young children, was diagnosed with a very advanced form of Hodgkins Disease, which is cancer of the lymph nodes. The cancer had quickly spread to her lungs and throughout her body, and she had to undergo aggressive radiation and chemotherapy. "I was sick quite a bit, but I never did give up. I never had the feeling I was going to die," she said.

At the time, Mitchell was working on a degree in accounting at the University of Louisville in Kentucky. "I saw statistics that showed CPAs could make the most money," she said in describing why she was pursuing the degree. "I enjoyed it but I knew more and more I ought to be helping people."

About a year later, still fighting the cancer, she took her 10-year-old son to a Harry Chapin concert in Louisville. She remembered how much she and her son enjoyed the concert not only for the music but also for Harry's message of sharing and caring. "He treated his fans like equals, and he made us feel like we could do something for this world," she said.

After the concert, Mitchell, weak and losing her hair from the treatments, waited patiently for the crowd of autograph-seekers to clear. "By the time we got to the desk, Harry had already gone backstage," she said. "But they told me to hold on and that Harry would want to meet me."

Harry came out and gave Mitchell a kiss on the forehead and shook her son's hand. "It's almost like I could feel his inspiration then," she said. Mitchell said Harry made her realize that just earning a big salary and paying taxes would not make much of an impact on her community or the world. "I had always been involved in volunteer work; but, after passing the CPA exam and completing my MBA, I realized that I would be happier by making that living teaching others," she said.

She took a job teaching at a local college and also volunteered in many capacities: tutoring in prisons, supporting feeding programs, helping people on welfare start their own businesses and encouraging others to help nonprofit organizations.

By 1985 Mitchell had beaten the cancer and was deemed "cured." Then in 1991 she was diagnosed with breast cancer, and it forced her to retire from her teaching job. As she fought cancer again, Mitchell decided to recommit herself to helping others.

"I just gradually took what I learned as a CPA and thought about how I could use it to help others," she said. "Harry made me feel like I could change that path and really help people rather than just think about myself."

Eight years ago Mitchell joined the board of directors of the Greater Community Council (GCC), a nonprofit organization that was originally started to help homeless and poor people in the greater Louisville area and beyond.

Initially she helped the group raise money to fund a feeding program for hungry children in Nairobi, Kenya. Then, in 1999, the GCC learned of an opportunity to secure millions of dollars from the U.S. government to fund the development of a housing project for the disabled in Louisville. Mitchell knew this was a chance to put her CPA skills to use.

"There are funds allocated to each state, and I think about a third of the states weren't using the funds that were allocated to them because they didn't have organizations that could put the money to use," she said.

Mitchell and GCC Founder Robert Logan, a retired contractor, attended a meeting with the U.S. Department of Housing and Urban Development to explore the idea further. She and Logan spent the next two years searching for the right land to build the housing complex and completing a 500-page federal grant application for $1.4 million.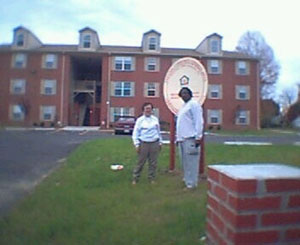 Linda Mitchell and Robert Logan volunteered their services for three years to make this low-income housing development a reality.
"Finding the land was probably the longest process," she said. There are a lot of regulations as far as where it can be--not too close to railroad tracks or expressways but close enough to a bus stop and local stores."

The team had to coordinate environmental studies on the land, check the historic register before selecting a site and ensure that all the funds were allocated properly. Once the grant was approved, Logan managed the construction part of the project, which took another year. The process required a great deal of research, follow-through and attention to detail, she added.

In all Mitchell and Logan donated their professional skills, time and energy for three full years to take the project from idea through fruition.

This month the housing development opens to 15 low-income families that have disabled family members. Each family will pay no more than $100 in rent per month. "We've had so many families here in Louisville need this type of housing," she said. "It's a really good feeling."

As she reflects on how she twice endured and survived life-threatening illnesses and then took a new path to use her skills, Mitchell seems remarkably philosophical. "I don't look at my cancer as being something negative in my life," she said. "It's like I know God has given me another chance at life, and this might be the reason."

Mitchell said that as hard as it was to lose Harry Chapin at such a young age, she believes he had fulfilled his mission. "His job was to inspire others," she said. "Look at what his family has done and continues to do. All these years later so many of us are still working to accomplish what we believe he would have wanted us to accomplish."

Mitchell hopes others who have talent and time will be inspired to make a difference. "There are so many retirees who still have 20, 30, or even 40 years that they can devote to helping others," she said. "Why doesn't everyone do just that? It gives you motivation to keep going, and I think it helps you to stay youthful and energetic," she added. "So, you are not only helping others but also helping yourself at the same time."
Watch for the Next Issue of Circle! on March 7