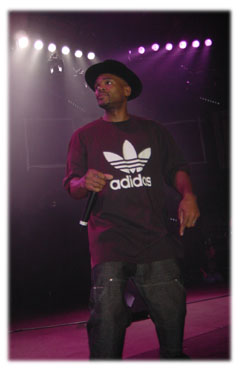 Photo by Erik Blam
Run-DMC Star Strikes A New Chord
With "Cat's In The Cradle"
by Mike Grayeb
When Darryl McDaniels heard "Cat's in the Cradle" over the public address system in a supermarket two years ago, he knew right away that it was a turning point in his music and his life. "I was like, 'Thank you universe--that's the one.' It's simple, you can remember it--it's about kids; it's about relationships," he said. "It's got a great melody, and I remembered it from when I was little."

McDaniels, who was one of the three members of the legendary rap/hip-hop music group Run-DMC, had recently learned that he was adopted, and he was searching for a way to share his story with the world.

Best known as "DMC," McDaniels grew up in Hollis, New York, a middle-class section of the borough of Queens. It was there, while in grammar school, that he met his lifelong friend and future bandmate Joseph Simmons (a.k.a. "Run").

By the time they were just 12 years old, McDaniels and Simmons were learning and honing a craft that combined catchy rhymes and hooks with meaningful, positive lyrics. "We would take our DJ equipment and set it up in Jamaica Park and 192 Park. We'd plug it into the light post, and we'd emulate Grand Master Flash until the police came along and sent us home."

McDaniels, 39, said many of the popular musicians and bands from the 1970s were influences. "We'd listen to The Jackson Five and Elton John and Harry Chapin," he said. "Old black water…keep on rollin'," he sang, citing the Doobie Brothers song as an example of a rap within a non-hip-hop song.

Just a few years later, McDaniels and Simmons connected with Jason Mizell ("Jam Master Jay"), and the trio was rapping after school. By the time they had started their first semester in college, the band had convinced Simmons' brother Russell, an emerging music industry executive, to help them produce a record.

Their self-titled debut album, "Run-DMC," was a huge success, selling more than 500,000 copies.

Run-DMC's career featured many firsts for a hip-hop group, including earning gold and multi-platinum albums. They appeared on the cover of Rolling Stone. Their video was played on MTV (as a result of its collaboration with Aerosmith on the song "Walk This Way"). They appeared on "American Bandstand," "Saturday Night Live," and "Live Aid," the international event to fight hunger.

In 1986 Run-DMC's remake of the rock anthem "Walk this Way" with Aerosmith was a smash hit and was credited with breaking down the cultural barriers between rock and hip-hop music genres and their respective fans.

McDaniels said Run-DMC had a mission from the start. "We created the whole band as a vehicle to inspire people, to motivate people," he said. "A lot of people thought nothing really good could come out of the hood, and we wanted to break down the stereotypes and change things.

Amidst the rise of the band and all the resulting commercial success, McDaniels found himself caught between the challenges of balancing a career on the road and the responsibilities of being a husband and father. As he battled periods of depression, he relied on drugs and alcohol to deal with the pain.

Years later, he tried to come to terms with his inner demons while writing his autobiography, King of Rock: Respect, Responsibility, and My Life With Run-DMC. While he was writing the book, McDaniels found out he was adopted. After dealing with the initial shock, he contemplated the choices his natural parents must have faced--and what their decisions ultimately meant for him. "This was a lot about destinies. If my mother never gave me up for adoption, I would not be DMC. [Friend and hip-hop star] LL Cool J told me this rap thing would not be what it is today."

When he heard "Cat's in the Cradle" while in the supermarket, McDaniels realized he had found just the right song for his story. "I needed a song that is so true, so real. It touched me when I was little. I thought it was so sad, but everybody could relate to its meaning. People love their children and before they know it, they're all grown up. It's like, 'Son, you don't want to hang with me? What's going on?'"

Then, in October 2002 when bandmate Jam Master Jay was suddenly killed, McDaniels and Simmons retired Run-DMC. Having lost his friend and the band that was his livelihood, McDaniels decided to rededicate his talents by keeping the positive spirit of Run-DMC and by finding a way to make a difference.

"I thought,'I need to do what Harry Chapin did.' I had my fun as a kid, but now I have a purpose in the world. Nobody in the world could tell me that, but I said it to myself. I know what I have to do, and the Harry Chapin remake is the catalyst."

McDaniels said he reached out to Sandy Chapin, Harry's widow, to describe why he wanted to record the song she and Harry co-wrote.

"I had to call Mrs. Chapin and let her know I wanted to make a hip-hop record out of her husband's record and that I wouldn't tarnish it. A lot of artists take the records and ruin them and I wouldn't do that. She knew our group had a good reputation, and she told me to go ahead and make the record," he said.

In crafting the lyrics for his new recording of the classic song, McDaniels mused about the twists of fate at birth that changed his life:
"It was nine whole months inside of the womb;
Another long month in a hospital room.
Facing doom in a tomb 'cause the kid is alone;
But somebody came along and they took the kid home.
He came into the world like we all do;
But he never ever knew how he came through.
Do the best you can do if this happened to you;
And understand all the words that I'm rappin' to you."
Throughout the song, he used the melodies and the words from the original chorus in Harry's Cat's in the Cradle. Toward the end of the song, he reassured his natural parents, wherever they are:

"…My life is complete; everything is all right.
Life is good to me, I'm in paradise.
Understand what I'm rappin', no pain and sorrow
I just want you to know; I just want you to know…I'm all right."
"I took something that people considered so bad and so messed up, and I turned it into a beautiful thing. To give a kid up for adoption, I made it seem like it was a good thing."

As he was writing the song, McDaniels thought of soulful singer-songwriter Sarah McLachlan. "When she put out the album 'Surfacing' six years ago, she had a record on it called 'Angel.' It was at a time when I was trying to figure out what I wanted to do with my life; it was my midlife crisis."

"Angel" reached McDaniels through its lyrics about being on the road and being lonely. "Living out of a suitcase isn't all it's cracked up to be," he said. "I wanted to be home with my family."

He remembered how he had met McLachlan at the Grammy Awards. "I said, 'I'm DMC and your music changed my life.' She looked at me, this black, hip-hop/rap star from the hood, and she said 'That's why I make music.'"

When McDaniels was preparing to record the song, he knew McLachlan was just the right artist to sing it with him. But his record company told him he'd have to ask McLachlan himself. "I really believed in the song and in her, so I got on the phone and told her about my adoption and everything and she said, 'Come on over to my house and we'll record it here.'"

McLachlan sang the chorus, the harmonies, and a few other key parts. McDaniels said he's hoping to record a video for the song early in 2004, in Vancouver, Canada, where McLachlan lives.

He said he has already been performing the song for enthusiastic crowds. "I did a show at Red Rocks Amphitheater in Denver, and all the kids were going crazy singing the chorus. Young high school people were saying, 'Wow, I can't believe he's doing that record,' and the promoter told me it was the most beautiful thing he'd ever seen."

The initial response to the song caused McDaniels to remember when music moved people to action. "Brotherly love and caring for each other is missing. They addressed that music in the '60s and '70s--war, homelessness, hunger. Now, everybody's having pool parties at their mansions. We're worth billions and we're not doing anything to change the world."

"The music that I listened to--Harry Chapin, John Lennon, Bruce Springsteen--I thought of what they've done. I want to be remembered as the rapper who did great things and is still doing great things.

"That's what Harry was all about--giving to people through his music and through his charity work. You can't just give out turkeys on Thanksgiving and think you're making a difference; you have to do that every day. We have to show the kids that we can do it," he said.

McDaniels' forthcoming album, the release date of which has not been set, features other songs designed to motivate social action. "There are a lot of conditions in the world that people are afraid to talk about. Somebody has to have the balls and guts to stand up and talk about it and I'm the one."

In "What's Wrong With the World Today?," McDaniels puts forth a wake up call for people to reinvest in schools and give kids a safe and nurturing place to learn, free of guns and violence.

"Come Together" features Joseph Simmons and addresses the importance of saving the environment and endangered species like whales.

The album's title "Checks, Thugs, and Rock & Roll" reflects McDaniels' perspective of how things are and how they can be.

"Checks--kids think it's all about fame and fortune," he said. "Thugs--kids think they have to be meaner than everyone else. But Rock and Roll can be a way out, and it can change those attitudes," he added.

"The majority of kids live mundane lives, and we have to use our music to make their lives better," he said.

Cat's in the Cradle will be the first single released from the new album because it's such an important record in terms of its meaning, he explained. His friends in the hip-hop industry agree. "I play it for them to see their reaction and to see if they think it's corny, and all of them--the younger generation--embrace the idea and what the record is about," he said. "Even my manager is bugging out about it."

Through all the highs and all the lows that have marked McDaniels' personal and professional life, he said has now found an inner peace and a sense of accomplishment.

"If I die tomorrow, my purpose in music is fulfilled," he said. "I made the record of one of the artists I loved growing up, and I made it with Sarah McLachlan. I've experienced my nirvana."

But McDaniels won't stop there. "Now, I've been reborn," he said. "There's a reason why I'm still in this business after 21 years. My job isn't done yet. I have a lot of music left in me."
Watch for the Next Issue of Circle! on March 7