Inside the
Summer Issue:
Winning $10,000
Isn't As Exciting As
Giving It Away

Fan Fare
Paul and
Vicki Silverman
Chapin Food Bank
in Eye of
Hurricane Charley
Physicians Team Up
to Seek Cure
to Hunger
Long Island
Songwriters Go Wild
About Harry
Tom Chapin's
Ever-Widening
Circle
---
Click to read
the Winter 2004 Issue
Click to read
the Fall 2003 Issue
Behind the Song: Sequel

by Howard Fields
NYC, December 1979.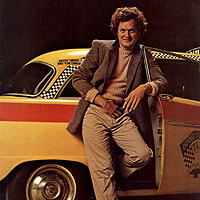 The Chapin office has recently re-released the Sequel CD. It is available for purchase at harrychapinmusic.com.

Photo courtesy of
harrychapinmusic.com
The band was rehearsing a group of songs that we'd soon be recording for what would be called the "Sequel" LP. Of course the word 'sequel' had not yet made it's way into our collective Chapin band consciousness until I happened to be outside the rehearsal room when the receptionist said that Harry was on the phone and wanted to talk to anyone in the band.
I took the call, and really don't remember if he was calling to say he'd be late or wasn't able to get to the rehearsal at all, but that item was totally overshadowed by his unmitigated excitement about the lyrics he had just written.
"Howie, listen to what I just wrote," he said, and he began to read to me his new song's opening verses that culminated with the line, "Now here I am straight and sittin' in the back, hitting Sixteen Parkside Lane."
I have to admit that that line caught my attention. I then returned to the studio and said, "You guys aren't gonna' believe this. I just talked to Harry. He wrote a sequel to 'Taxi.'" Well, they didn't...but after a little convincing, acceptance began to sink in.
"Whatever -- a cheap but sure-fire way to get on the charts -- at least for ten minutes or so" was our general reaction. Nevertheless, within a day or two, and with our cynicism parked outside, we began rehearsing the song "Sequel" with the songwriter. In classic Harry mode, he was absolutely adamant about getting the song on this album regardless of the fact that we already had our hands full with the existing workload of his new tunes.
About half the "Sequel" LP sessions took place in Miami's Criteria Studio. Their hallways were lined with the Bee Gees' "Saturday Night Fever" gold & platinum albums.
We recorded the basic track of the song in the presence of the late Neil Bogart, whose music business CEO history included the mega-sales of Donna Summer and Kiss on his Casablanca label. But here he was, overseeing the premier artist of his new label Boardwalk Records. Nice guy...ordered a mess of ribs for all of us.
Editor's Note: Howard Fields was the drummer in Harry Chapin's band. His website is www.rockpaper.net.
Watch for the Next Issue of Circle! on December 7