Hungerthon 2004 is Coming:
Spotlight on Chapin Concerts in New York


Hungerthon 2004, the annual World Hunger Year (WHY) radio fundraiser that was started by Bill Ayres and Harry in 1975, is fast approaching.
The radiothon is WHY's biggest annual fundraiser and will air the week before Thanksgiving on several New York City Infinity Broadcasting radio stations, reaching millions of listeners with important information about hunger and poverty and ways to contribute and make a difference.
Listeners will have the chance to bid on exciting autographed celebrity memorabilia from artists including Bruce Springsteen, Peter Frampton, Peter, Paul & Mary and more.
This year, Chapin fans will have three opportunities to support WHY and remember Harry at the same time.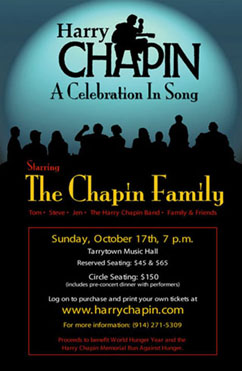 October 17th "Harry Chapin: A Celebration in Song" Concert in Tarrytown, NY

Tom, Steve and Jen Chapin, John Wallace, Howard Fields and several other Chapin family members and friends, will present "Harry Chapin: A Celebration in Song" on Sunday, October 17th at Tarrytown Music Hall (located about 30 minutes north of New York City). Tickets are available now, on-line, at www.harrychapin.com. Reserved seating is $45 & $65. "Circle Seating," which includes a pre-concert dinner with the performers, is $150. Proceeds will be shared by WHY and The Harry Chapin Memorial Run Against Hunger.
October 21st "Hungerthon Kick-Off Party"
in New York City
The Chapins will also perform at the annual "Hungerthon Kickoff Party" in New York City on Thursday, October 21st. Tickets for the concert and pre-concert dinner are $100. For more information on the Hungerthon Kick-Off party, call 212-629-3224.
November 19th "Satinwood Hungerthon Concert" in Hartford, CT
Satinwood's famous Accoustic Classics show comes to the CREC Theater of the Performing Arts. Tickets available at www.ticketweb.com and www.satinwood.net. Sponsors are also welcome; please call Paul Motter at (860) 930-0717.
You can view the Hungerthon 2004 schedule and pictures of premium items available for donation, and you can also make an on-line instant donation at www.hungerthon.org
Watch for the Next Issue of Circle! on December 7