Winning $10,000 Isn't As Exciting As Giving It Away

by Bill Hornung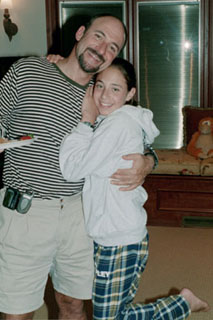 David Fish and daughter Hannah
Winning $10,000 worth of groceries during a recent contest would have kept the David Fish family well-stocked for quite sometime. But the windfall seemed like the perfect opportunity for the Northern Ohio family to give back.
The Fish family was the grand prize winner during an online contest sponsored by the local newspaper and its online affiliate. Upon winning the contest, the family agreed to split all the winnings between the Akron-Canton Regional Food Bank and the Akron Battered Women's Shelter.
"I kept hearing Harry saying 'when in doubt, do something'," said Fish, who traveled to Chapin concerts whenever possible since hearing Taxi as a 13-year-old growing up in the Akron area.
The family's kind gesture snowballed into an unanticipated flurry of media coverage and kudos from neighbors and relatives. "The last thing we were looking for was publicity," said Fish. But the Akron Beacon Journal and its online affiliate Ohio.com wanted to honor the family for its kindness.
A reception was hosted and Fish was asked to speak to a gathered crowd of 100 well-wishers to present the donations to the two charities. "When I mentioned how I had this calling to service based on my Harry experiences lurking in the back of my mind, I heard an audible gasp from the crowd. I can't tell you how many people came up and started telling me how they remembered Harry talking about hunger during his concerts."
"I really felt the depth and breadth of how our donation impacted a lot of folks."
Soon after, the local ABC television affiliate in Cleveland picked up on the story. The station was moved to do a separate profile on the food bank. Even though Fish was initially reluctant about the media coverage, he was happy it helped get the message out about the hunger situation in the hard-hit rustbelt area.
Neighbors and families involved in his daughters' softball teams also told the Fish family how their gesture motivated them to get involved. And daughters Hannah, 13, and Emma, 9 toured the food bank and were moved to become weekend volunteers. Hannah also volunteers to help entertain smaller children who are temporarily staying at the women's shelter.
Fish said he was in awe when he received personal notes from Jen and Sandy Chapin in recognition of his actions.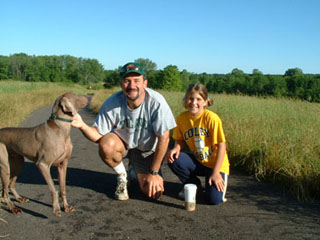 David Fish and daughter Emma
Getting involved is not a foreign idea for Fish. "I was pre-disposed having grown up in a house with a liberal imprint," Fish said talking about his childhood. And Harry's music and political activism just reaffirmed what he was hearing in his childhood home.
"It all just seemed to interconnect," Fish said. "He was singing about Martin Tanner from Dayton, Ohio. He was speaking to me — this kid from the Midwest. How cool is that?"
Fish attended Tulane University and continued to get more politically active. He eventually was selected for a semester-long White House internship program during the Carter era — all about the time Harry was working on the Presidential Commission on Hunger.
Fish has spent the last 15 years as the prosecutor for Barberton, Ohio — admittedly a seemingly odd career choice for die-hard liberal. "It's not just about putting bad guys away, but our real job is bringing justice to the world."
Fish said his interest in social issues has helped him become a voice of conscience in an environment that occasionally has its share of injustice.
When not at work, Fish keeps the circle going with his own family. After the food bank tour, he took his daughters to the local Democratic Party headquarters so they could pick up their "Vote for Kerry" buttons. Then they went to see Fahrenheit 9-11, the controversial Michael Moore film that is highly critical of President George Bush.
"It was quite the day of daddy's heavy liberal politics," Fish chuckled about the events following the official donation of their winnings. But the best part, Fish said, was seeing how a single act of generosity could have so much impact. "It's reaffirmed my commitment that everybody can make some small difference."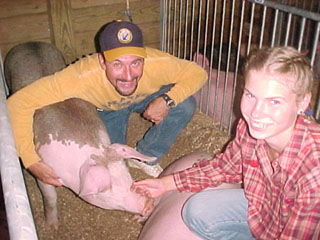 Watch for the Next Issue of Circle! on December 7