One Woman's Simple Question Yields A Harvest of Food For The Hungry

by Linda McCarty
One evening in 1980, Helen verDuin Palit was relaxing at a restaurant next door to the soup kitchen she ran in New Haven, Connecticut. While savoring some potato skins, she wondered what happened to the insides of the potato after the popular appetizers were prepared. What she discovered is that the remains of the potato skins were thrown away.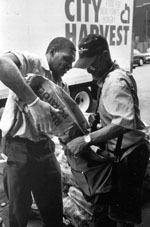 City Harvest employees and volunteers canvas New York City every day to secure donated food and deliver it to agencies that serve people in need
That simple question led to the donation of 30 gallons of potatoes from the restaurant to the soup kitchen the next day and every day since then. And it was the beginning of a harvest of ideas for rescuing good food from where there is extra and distributing it to where it is needed.
Realizing that other restaurants and food service providers often had excess food, Palit created a 24-hour food hotline for companies seeking to donate food and began to recruit and train volunteers to handle food safely while delivering it to community agencies. In many jurisdictions volunteers who deliver food are protected from liability by Good Samaritan laws. The food is provided at no cost to either the donor or recipient organization.


The Next Step: City Harvest
Palit moved to New York City in 1982 and began looking to see if any food rescue programs existed. There were none. Drawing on her successful experience in New Haven, Palit founded City Harvest, a nonprofit organization that collects and distributes food overages not only from restaurants but also from parties and corporate events.
Today, City Harvest trucks deliver free food for 45,000 meals every day, 365 days a year. Volunteers, agency personnel and truck drivers collect and deliver to agencies that feed the hungry and homeless, children and seniors, individuals in rehabilitation centers and those with AIDS, as well as the working poor.
In some areas of the city, volunteers who work near shelters are able to pick up food nearby and make deliveries on foot. Since Harvest program food is delivered directly from donor to recipient agency, no interim storage is required and costs are kept to a minimum. Donations enable the organization to provide meals at a cost of only 36 cents each.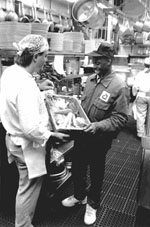 Palit was named the fourth Point Of Light in former President George Bush's Thousand Points of Light campaign with the mandate to replicate her innovative program. Her programs and expertise have served as a model for 122 Harvest programs in the U.S. and 83 in other countries. Collectively, they rescue enough food for 700,000 meals each day.

A Move To California and Another Inspiration
In 1991, when Corky Hale Stoller asked her to establish a Harvest program in Los Angeles, the two women met with the executive director of the LA Regional Food Bank, Doris Block, and got to work on Extra Helpings.
Four years later, Mrs. Stoller saw another source of food to help the hungry -- the entertainment industry. Angel Harvest was created to take advantage of the unserved meals from large catering operations, studio events and premieres, and award ceremonies like the Oscars® and Emmys®.
To collect such large amounts of food, commercial drivers used to handling heavy loads and a refrigerated truck were needed to properly maintain the food in the hot California climate. Drivers, who are trained by the health department, pick up the food and deliver it to soup kitchens and shelters within one hour. These collections enable Angel Harvest to provide receiving agencies with food for more than 13,000 people every day at a cost of just 11 cents per meal.
For more information or to get involved, go to http://www.cityharvest.org.
Watch for the Next Issue of Circle! on September 7