Inside the
Summer Issue:
Harry Chapin's
"Ripple" of Influence
Grows Every Day

Jen Chapin Leads Us
On A Lushly-Written
Journey Into Her Life
In "Ready"

WHY Takes Holistic
Approach to Fight
Hunger & Poverty

DMC's New Disc
Strikes Many Chords

Hard Rock Café
Serves Up Benefit CD
to Fight Hunger

When Howie Met Harry:
Catching Up With
Drummer Howard Fields

Performing Artist
Inspires Audiences
Through Prose

Celestial Cross-Pollination
Yields a Harry Chapin-
Dante Anthology of
Student Essays

Amish Farmers' Co-op
Finds Innovation in
Simpler Ways

Still Wild About Harry
Behind the CD "Cause"

Do Something!
---
Click below
to read previous
issues of Circle!

When Howie Met Harry: Catching Up
With Drummer Howard Fields
by Linda Swanson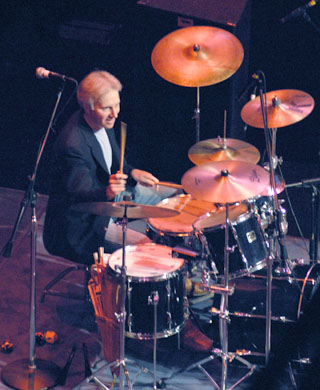 Howard Fields teaches drums, piano, and guitar in a comfortable studio within his Bergenfield, NJ, home.
When drummer Howard Fields met Harry Chapin in 1974, he already knew of Harry's hit songs including, Cat's in the Cradle, Taxi, and W*O*L*D. "I was playing in a band in Brooklyn with a guitar player named Doug Walker, an old friend of the Chapins," he recalled.

"Doug had met them when he was singing in the Grace Church Choir where Harry's brothers Tom and Steve sang and where Harry also sang for a short time. In 1974 Steve Chapin called Doug to tell him there was going to be a Broadway show Based on Harry's music. Harry asked Doug to play in it and asked him to recommend a drummer so Doug recommended me. That's how it started," he recalled.

They first met face to face at a rehearsal for The Night That Made America Famous. "He was friendly, not overwhelmingly friendly, but friendly," Fields said.

At the time Fields was just out of college and didn't have much money. "I had to join the musician's union, and he fronted me the money." Fields said he paid Harry back as soon as he got paid by the show. "But I remember that. He was a nice guy."

The Night That Made America Famous had a disappointingly short run from February 26, 1975, to April 6, 1975. "It was what I've referred to as a howling failure. Six weeks was not very impressive by Broadway standards, but the closing of the show was the best thing that could have happened to me and a few of the other people involved," he said.

At that point Harry decided to augment his previously small touring band, which until 1975 was Harry on guitar, John Wallace on bass, Ron Palmer on guitar, and cellist Tim Scott followed by Michael Masters.

"When the Broadway show folded, and with a taste of what it was like to play with a bigger and more electric band, he added me on drums, Steve Chapin on keyboard, Tom Chapin on guitar, and guitarist Doug Walker, who replaced Ron Palmer," he recalled. "It was great playing on Broadway, but this is what we really wanted to do: play real concerts all around the world."

Fields said Harry loved performing on Broadway. "So I think it was a bittersweet thing for him. He wasn't thrilled with the show closing, but I think hitting the road again made him happy as well."

In the ensuing seven years, Fields played more than 900 shows world-wide with Harry. In addition, there were TV appearances on The Midnight Special, Don Kirshner's Rock Concert, The Tonight Show, The Mike Douglas Show, and The Merv Griffin Show. During Fields' time with Harry, he recorded six LPs, including the platinum album, Greatest Stories Live.

Fields got to know Harry well and said that although he was sometimes difficult to deal with, Harry remains in his memory as a warm, likable guy.

"Some of the best moments and best memories of my life were hanging out on the road with the band -- Steve, John, Doug and Kim Scholes (Michael Masters' replacement), who was the cellist for most of my time in the band," he said. Harry, however, didn't have very much time to hang out because he had so many other things going on, Fields explained. "He had no spare time. Every minute of the day was regimented. Very often he flew home for just a few hours if he could."

"I miss those days, the special relationship that band members have when they are steadily working on the road for 250-300 days a year. I don't miss the actual traveling, though, or dealing with all the inconveniences, what goes on inside the airports, getting to and from the hotel. That was very tough."

Came One Dark July

On the night of July 16, 1981, Harry and the band were scheduled to perform a free concert at Eisenhower Park on Long Island, New York. It was to be the first appearance following a three-week hiatus for the band.

"We got there early to set up so that we could go over to Don Ruthig's for a party. Don worked for Harry; he was his main man. We went to Don's house and found a barbeque, a pool, lots of food and drinks," he recalled.

Harry was yet to join them. He was off on his own busy schedule as usual. It was while Fields was at the party that the news of Harry's fatal car crash reached him and the other band members. They left Ruthig's house for the Chapin residence where friends and family were already converging to comfort Sandy and the Chapin children.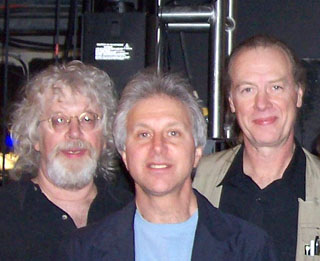 Big John Wallace, Howard Fields and Steve Chapin
Since Harry's death Fields has continued doing his part to keep his memory alive. As a member of the Steve Chapin Band he plays alongside Big John Wallace, John's son Clark, and Steve's son Jonathon. The band performs tributes to Harry and highlights Steve's original songs as well. "The audiences for both of these tribute shows are filled with older Chapin fans from the 70's as well as new younger fans that have been given the gift of appreciating Harry's music from their parents," he said. He also performs with the broader Chapin Family & Friends in Harry Chapin: A Celebration in Song, a concert that brings together three generations of Chapins.

How It All Began

Fields earned a BA in Music from Long Island University, but his enthusiasm for music began much earlier.

At the age of 15, he began taking drum lessons and playing in local bands. He cites as early influences drummers from leading bands in the 1960s and 1970s, including: Beatles icon Ringo Starr, Dennis Wilson of The Beach Boys, Charlie Watts of The Rolling Stones, Dino Danelli of The Rascals, B. J. Wilson of Procol Harum, John Bonham of Led Zeppelin, Ginger Baker of Cream, and Clive Bunker of Jethro Tull. However, most exciting and inspirational to Fields was Steve Gadd, the renowned studio drummer who, beginning in the mid-1970s, played on the albums of so many influential artists including Paul Simon, Chick Corea, and Steely Dan.

Fans may be surprised to learn that his musical interests lie not only with percussion but also with guitar and piano. He refers to himself as an avid finger picker who learned a few things along the way from both Harry and Tom Chapin.


Tapping the Web

Fields is also very active on the worldwide web, hosting a number of special interest sites. His newest web site, called Harry Chapin: The Howie Fields Years, located at www.chapinmusic.com/HowieFieldsYears is chock full of great stories Chapin fans will love.

"This is basically a chronological list of every day I ever spent with Harry either on a concert stage, recording or TV studio, radio station, photo shoot or anywhere else we may have been. There are dozens of dates to click on that lead to anecdotes and memories regarding each event, along with scans of memorabilia and assorted images from my archives," he said.

An example reads: "Quite notably for me, within the run of the Broadway show, The Night That Made America Famous, on March 1, 1975. Both Saturday performances were completed, and Harry entered the band dressing room and asked Big John if he would come with him to attend the Grammy Awards ceremony at The Uris Theater, for which he had one extra ticket and for which he had been nominated as Best Male Vocalist for Cat's In The Cradle. He was also performing the song that night but John politely declined.

"Harry then put the ticket up for grabs and only after it appeared no one else was taking, I found myself in a cab with Harry, his wife Sandy, and his dad Jim, rushing over to the Grammy's which had already begun. We entered the building and as we approached the doors leading from the lobby into the actual theater, a young usher (about 20) noted that Harry was overburdened with a guitar (not in its case), a leather bag, and one or two other items.

"He offered to take the guitar which Harry gladly gave up and then, somehow, as the usher was holding the guitar and at the same time attempting to open the door to the theater for us, he dropped the instrument and tripped in such a way that one of his feet came down right on the guitar.

"So...there the guitar lay...smashed on the ground. It happened in a nano-second and it wasn't pretty. All I remember at that point was Harry putting his arms around this devastated and horrified kid, saying "Don't worry about it bro." He could be like that. End of story."

Fields said he rarely listens to the old recordings he made with Harry; but, having recently acquired an iPod, he enjoys hitting the shuffle button and hearing some of the songs pop up while driving late at night.

"I've always felt that it's the characters Harry wrote about that made his music so enduring to his fans," he noted. "It always appeared to me that Chapin enthusiasts related heavily to the impossible situations that many of those characters wound up in -- situations sometimes with few acceptable options. Harry's little heroes sometimes rose above their adversity or, if unable to do so, just dealt with it somehow."

The Harry Chapin: The Howie Fields Years website also features a page in which Fields discusses his drumming experiences with Harry and in the years following his death as well as his writing about drumming and his teaching practice.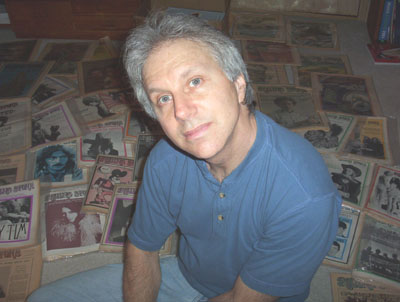 Fields also manages another web site that he is especially proud of: www.rockpaper.net, a site that provides rock music history fans access to archives of Rolling Stone.

The site features a comprehensive database of the magazine where fans can locate articles, record reviews, concert reviews, and advertisements for any band, artist, actor or political figure featured in Rolling Stone. Rock Paper's stockpile includes more than 10,000 back issues of Rolling Stone as well as a large inventory of other classic rock magazines and newspapers.

The site also offers a diverse selection of concert memorabilia including concert posters, flyers, programs and concert ads, plus many assorted odds & ends including Harry Chapin-related material.

Fields also performs as a drummer for hire at clubs, weddings, parties, playing a variety of music styles including: R&B, pop, country, rock, blues, and Latin.

Teach Your Children

A renowned percussionist, Fields has authored and self-published a book called The Drum Teacher, which is lauded by many in the international drumming community as the best way to get started with drums.

He has also rewritten more than twenty drum transcription/style and analysis books and has contributed many articles to Modern Drummer magazine including, most recently, an article about the great Ginger Baker based on performances in the recent Cream reunion concerts in New York City.

"The drummers I've written about include Buddy Rich, Gene Krupa, Lars Ulrich of Metallica, John Densmore of The Doors, Carter Beauford of the Dave Matthews Band, and Billy Cobham."

Fields also currently teaches drums, piano, and guitar in a comfortable studio within his Bergenfield, NJ, home and is always open for new students. For further information, call him at 201-387-8781, or email him at hf.rockpaper@verizon.net.

Watch for the Next Issue of Circle! on September 7