One of Harry's favorite lines when talking about hunger went like this, "You want to know what is really obscene? Hunger. Hunger is an obscenity and hunger in America is the ultimate obscenity."
What would Harry think now about hunger in our great country? Today, 30 million people in America are food insecure, and 12 million of them are children. That means that they often do not know where their next meal is coming from, have to skip meals, or eat much less than they need.
Much has been done to fight hunger in America in the past twenty years of which Harry would have been proud. I know all of us at World Hunger Year (WHY) are proud of the following two significant achievements:
Child nutrition programs like school lunch, school breakfast, after school meals, the Summer feeding programs, senior meals, food stamps, and WIC (Women, Infants and Children Feeding Program) help tens of millions to avoid hunger.
Two hundred food banks, including two founded by WHY, provide food to more than 50,000 food pantries, soup kitchens, homeless shelters, and Meals On Wheels programs that serve millions more.
If these are our great successes in fighting hunger in America, you might ask why do we still have so many hungry people? Here are several of the major reasons:
- Wages for most workers have not grown beyond inflation in the past 30 years. American workers need a raise.
- The costs of housing, health care, child care, and higher education have skyrocketed.
- Benefits have been cut for most workers, especially health care and pensions. - Unemployment insurance provides less money (after inflation) per week for fewer weeks.
- Welfare payments are smaller for less time and cover fewer people.
Photo by Joan Beder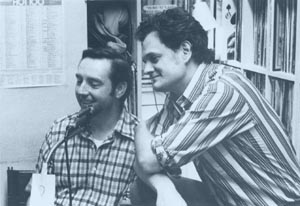 In short, the economy is not designed to provide a living wage for a majority of American families, and the so-called "safety net," which is supposed to supplement wages in a time of need, has increasingly gaping holes.
What can supporters of WHY do to "make a difference" (one of Harry's favorite terms)? Volunteer your time or talents to help a hunger or poverty organization in your community. If you don't know one, visit our online database and we can connect you to excellent people. Let your voice be heard. Write to the President, your congress members, governor, and state and local legislators about draconian budget cuts that are being proposed on federal, state, and local levels. WHY can tell you about the Federal cuts to oppose. You can ask your local organizations about the state and local issues.
Finally, READ and DISCUSS the issues. Start by going to our website at http://www.worldhungeryear.org to learn more. We should not live in a society that tolerates hunger when we can solve the problem.
Bill Ayres is Co-Founder & Executive Director of WHY (World Hunger Year).