Editor
Mike Grayeb
Managing Editor
Bill Hornung
www.rnrpartners.com
Writers
Janis Gibson
Linda Swanson

Design & Layout
John McMenamin

Distribution &
Database Management
Russ Gerroir
Steve Prue
Concrete Marketing Inc.

Contributing Advisors
Sandy Chapin
Jason Dermer
Special Thanks
Marty Acks
Brian Bieluch
Jaime Chapin
Jen Chapin
Steve Gibbons
Gordon Kirkland
Anna Lappe
Bob Marr
Linda McCarty
Tim Miller
Irwin Nussbaum
Bill Pere
Scott Sivakoff
Small Planet Institute
The Harry Chapin Foundation
World Hunger Year

Masthead photo
by Diane Maple
Thank you Harry and Jim.
Where to find
Circle!
We are grateful to these
websites for posting Circle!:

www.harrychapin.com

www.harrychapinfoodbank.org
www.remembering
harrychapin.com
If you'd like to post Circle!
on your website, please
drop us a line at circleteam@hotmail.com
Harry Chapin encouraged all of us to "Do something." Circle!, a free, quarterly on-line newsletter, presents ideas for social action, especially with the fight against hunger in the U.S. and around the world. Circle! is produced in its entirety by a volunteer staff. To subscribe, send an email with the word Subscribe in the subject line to circleteam@hotmail.com
Let's Hear from the Cheap Seats! We'd love to hear from you with your feedback, ideas for future issues, stories about Harry, and what you or someone you know is doing to make a difference. Please drop us a line at circleteam@hotmail.com
Copyright Circle! 2005.
All rights reserved.

Hunger Awareness Day Provides Initial Opportunity to "Do Something"
This day marks an opportunity for the diverse array of non-profit organizations, religious congregations, committed public officials, individual citizens and the media to unify their efforts and bring attention and increased awareness to the lasting problems of hunger and food insecurity that afflict 35 million Americans.
---
Alabama Soup Kitchen
Dishes Out More Than Food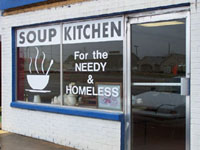 Faced with the awesome challenge of feeding and aiding the homeless and needy in her community, Sharon Walker chose to do something.
---
Citizens and Letter Carriers Gear Up for May 14th National Food Drive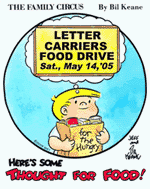 The National Association of Letter Carriers will team up with America's Second Harvest food banks and the United Way on Saturday, May 14th in hopes of raising a record amount of non-perishable food items to help fight hunger in America.
---
Tom received the award in February for his narration of the story "The Train They Call The City of New Orleans."
---
Like me, I'm sure many of you have often pondered the mysteries of slow-moving things.
---
Connecticut School's
Concert Series
"Remembers When
the Music"
The power of music to move people to action and to make a difference has long been apparent to most Chapin fans, but are benefit concerts pretty much a thing of the past?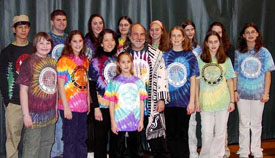 ---
Circle! Seeks Volunteer
Writers: Join Us and
Make a Difference!
Were you inspired by Harry and are you looking for a fun, creative way to make a difference?
Tim Easton is a veteran singer, songwriter and activist who, along with a few musician friends, promoted voter registration well before it became a popular cause among many artists right before the 2004 election.

---

Pat Carrol remembers when Harry Chapin taught her that win or lose, commitment to something greater than one's self is what really makes life worthwhile.
---

Charlotte Diamond doesn't use her music to change the world — just her corner of it.

---
All My Life's
A Circle

During the holiday season we all sometimes feel like we are going in circles.
---
Take our two-minute reader survey and you just might take home a CD recording of a live Harry Chapin concert
---
---
Want to be automatically advised when a new issue of "Circle!" is posted? It's free! Simply click on the link above to add your address to the Circle! distribution list. In the subject line, type the word "Subscribe" and then send us your email.