Editor
Mike Grayeb
Managing Editor
Bill Hornung
www.rnrpartners.com
Writers
Linda Swanson
Freddy Zalta

Design & Layout
John McMenamin

Distribution &
Database Management
Russ Gerroir
Steve Prue
Concrete Marketing Inc.

Contributing Advisors
Sandy Chapin
Jason Dermer
Special Thanks
Marty Acks
Bill Ayres
Brian Bieluch
Jen Chapin
Bruce Dennis
Steve Gibbons
Jim Lipscomb
Bob Marr
Linda McCarty
Jaime Chapin Miller
Tim Miller
Bill Pere
Scott Sivakoff
Joey Valentinetti
The Harry Chapin Foundation
World Hunger Year

Masthead photo
by Diane Maple
Thank you Harry and Jim.
Where to find
Circle!
We are grateful to these
websites for posting Circle!:

www.harrychapin.com

www.harrychapinfoodbank.org
www.remembering
harrychapin.com
If you'd like to post Circle!
on your website, please
drop us a line at circleteam@hotmail.com
Harry Chapin encouraged all of us to "Do something." Circle!, a free, quarterly on-line newsletter, presents ideas for social action, especially with the fight against hunger in the U.S. and around the world. Circle! is produced in its entirety by a volunteer staff. To subscribe, send an email with the word Subscribe in the subject line to circleteam@hotmail.com
Let's Hear from the Cheap Seats! We'd love to hear from you with your feedback, ideas for future issues, stories about Harry, and what you or someone you know is doing to make a difference. Please drop us a line at circleteam@hotmail.com
Copyright Circle! 2005.
All rights reserved.

All Because of Harry...

Harry Chapin was a dreamer. In 1981, in a little hamlet on the Hudson, I became swept up in Harry's dream. It changed my life.
---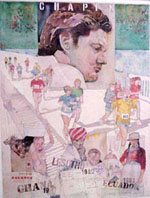 Harry Chapin Memorial
Run Against Hunger
Celebrates 25th
Anniversary
This year, organizers are offering donors a limited edition "Harry Chapin Memorial Run Against Hunger" iris print, designed and hand-signed by famous artist/illustrator Jerry Pinkney.
---
Hungry people live in fear. Our job is not to live in fear but to take some prudent risks to make life a little bit easier for them so that they might not live in fear.
---
Like Harry Chapin's willingness to take on world hunger, Dennis' story provides a real world look at how one person, working with others, can really make a big difference.
---
The workplace relationship soon evolved into a unique friendship, as Lipscomb and Harry spent their leisure time together.
---
Thanks for the influence Harry!
---
Plans are underway for a special "Harry Chapin: A Celebration in Song" concert in New York City to benefit WHY (World Hunger Year) on its 30th anniversary.
---

WHY Hosts
Free Anti-Hunger
Forum October 18th
"Food Justice: Change Your Diet, Change the World"
Bonnie Raitt's personal commitment and selfless devotion of her time to so many social, environmental and community issues makes her particularly illustrative of the spirit on which the Harry Chapin Memorial Humanitarian Award was established.
---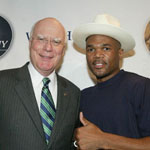 Circle! salutes these individuals, who, in the spirit of Harry Chapin's legacy, are "doing something" to make a difference.
---
---
A curious visitor asked her why she was hosting the event. "I replied — because I can," she said.
---
Following the example of his old friend Harry Chapin, Larry Austin is never too busy to fight for a good cause.
---
Men, let's face it. We stand little chance against women's purses. Handbags are the albatross that eventually will be our undoing.
---
---
Want to be automatically advised when a new issue of Circle! is posted? It's free! Simply click on the link above to add your address to the Circle! distribution list. In the subject line, type the word "Subscribe" and then send us your email.