Managing Editor
Mike Grayeb
Writer/Editors
Bill Hornung
www.rnrpartners.com
Linda McCarty
Design & Layout
John McMenamin
DeVitis Design Inc.

Distribution & Database Management
Russ Gerroir
Steve Prue
Concrete Marketing Inc.

Contributing Advisors
Sandy Chapin
Jason Dermer
Special Thanks
Brian Bieluch
Jaime Chapin
Steve Gibbons
Bob Marr
Tim Miller
The Harry Chapin Foundation
World Hunger Year
Masthead photo
by Diane Maple
Thank you Harry and Jim.
Where to find Circle!
We are grateful to the following
websites for posting Circle!:
www.remembering
harrychapin.com
If you'd like to post Circle!
on your website, please
drop us a line at circleteam@hotmail.com
Harry Chapin encouraged all of us to "Do something." Circle!, a free, quarterly on-line newsletter, presents ideas for social action, especially with the fight against hunger in the U.S. and around the world. Circle! is produced in its entirety by a volunteer staff. To subscribe, send an email with the word Subscribe in the subject line to circleteam@hotmail.com
Let's Hear from the Cheap Seats! We'd love to hear from you with your feedback, ideas for future issues, stories about Harry, and what you or someone you know is doing to make a difference. Please drop us a line at circleteam@hotmail.com
Copyright Circle! 2003.
All rights reserved.
Harry's 'Never Give Up' Spirit Fuels Run Against Hunger

The 23rd annual "Harry Chapin Memorial Run Against Hunger," scheduled for Sunday, October 19, 2003, is fast approaching. It's not an easy 10K race by any means, but they're going to give it all they've got, just like Harry always did.
Community Effort Makes Multi-Purpose Field A Reality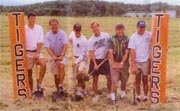 When Middlebury, Vermont, Selectman John Tenney told Jono Chapin that it would take patience to realize the goal of building a community field to honor his friend Vin Fucile, he could not have imagined the setbacks and twists of fate that would mark the project's progress.
---
Capture The Holiday Spirit With Celebrity Cards While Helping WHY

---

Harry Was Right: Long Island Needs 'Long Island Cares'
While Harry served on the Presidential Commission on World Hunger in the late 1970's, a Congressman suggested he tackle hunger in his own back yard, on Long Island.
---

Letter to the Editor
"Harry's music continues to be an inspiration to me even after all these years..."