Visit the new HarryChapin.com Guest Book to remember Harry.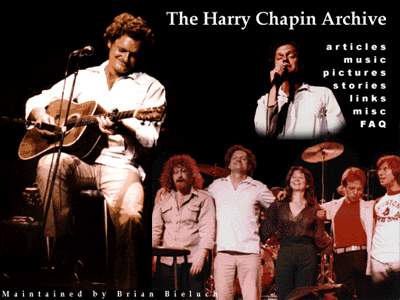 Articles | News | Music | Photography | Video | Stories | Buy
Links | Miscellaneous | Do Something | Circle Newsletter | Mailing List | View the Guestbook
JOIN IN: The HarryChapin.com Message Board
Please note: this is not an official Harry Chapin web site.
Be sure to visit this web site setup by Harry Chapin's family.
Amazing photography courtesy of Jim and Cindy Funk.
Photo on upper left hand corner of the page taken by Bob Savage.
Layout, design, images, and user-contributed text are © Copyright 1996-2005 The Harry Chapin Archive.